Poster Presentation Awards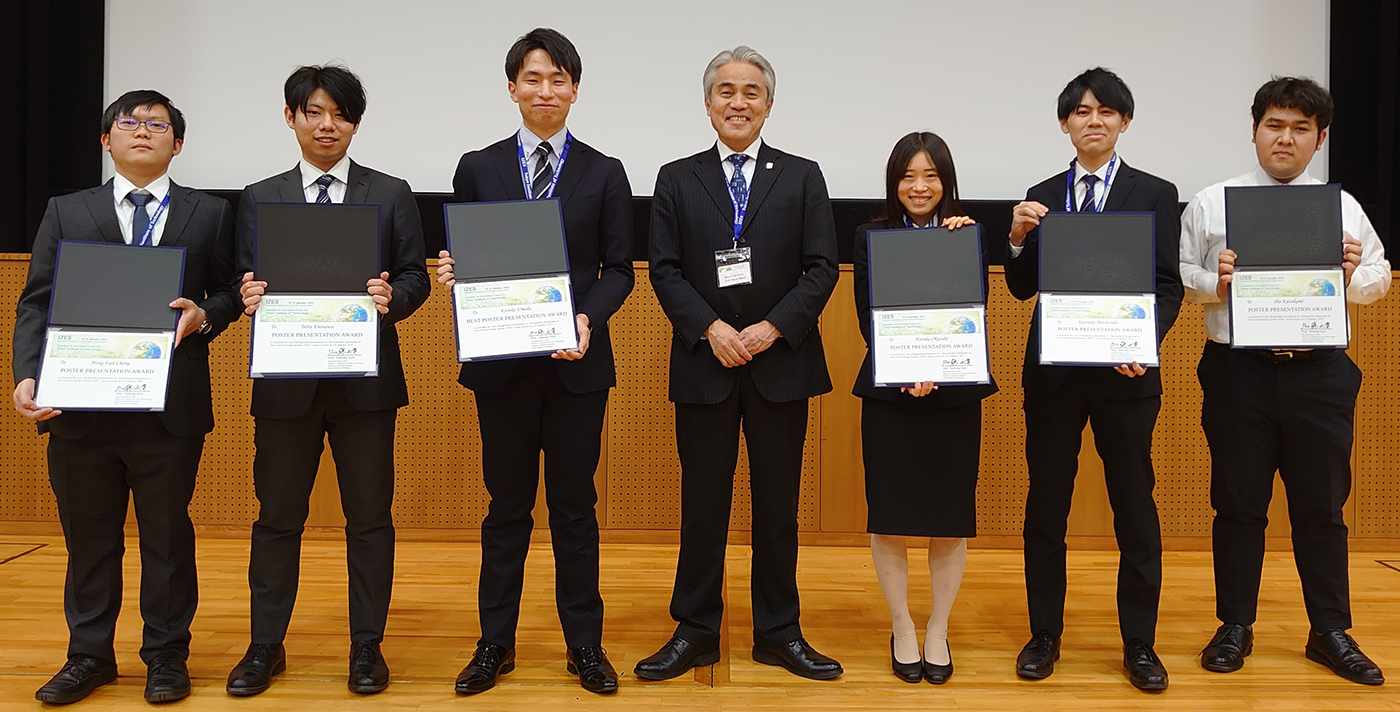 ◆ Best Poster Presentation Award
P13: Development of electrolyte in metal-supported solid oxide electrolysis cells on CO2 electrolysis performance.


Kosuke Umeda

, Yuko Maruyama, Sho Kuzukami, Shuzo Tominaga, Tan Zhe, Yukitaka Kato, Hiroki Takasu
◆ Poster Presentation Award
P6: Once-through High Burnup Fuel Management Strategy with Dual Neutron Energy Spectrum Core in HTGR
Hong Fatt Chong, Hiroshi Sagara
P15: Material Development for Thermochemical Energy Storage Using Magnesium Chloride and Ammonia Gas-Solid Reaction System for utilization of energy
Tetta Enosawa, Saki Yoshida, Hiroki Takasu, Yukitaka Kato
P17: Effect on electrolysis performance depending on cell layer composition of metal-supported solid oxide electrolysis cells
Sho Kuzukami, Kosuke Umeda, Shuzo Tominaga, TAN Zhe, Hiroki Takasu and Yukitaka Kato
P4: Safety and proliferation resistance of small and medium-sized sodium-cooled fast reactors with passive shutdown devices
Haruka Okazaki, Masatoshi Kawashima, Hiroshi Sagara
P16: Development of thermochemical energy storage materials with enhanced thermal conductivities using calcium hydroxide and silicon-impregnated silicon carbide foam
Kyosuke Mochizuki, Shigehiko Funayama, Soichiro Tamano, Takashi Kato, Massimiliano Zamengo, Hiroki Takasu, Yukitaka Kato
Oral Presentation
15 min presentation + 5min Q&A (Total 20 min)
The electronic file of the presentation must be submitted directly to staff in each presentation room by the morning of your presentation day.
The electronic file of the presentation can be accepted in PPT or PDF format.
Your own computers are NOT used in your presentations in principle. If you have a special request to use your own computer, please contact us at izes-abstract@zc.iir.titech.ac.jp prior to the beginning of the conference.
We guarantee to delete your file completely in our computer after the conference.
Please check Guidelines for Oral Presenter
Poster Presentation
All poster presenters are REQUIRED to make a 1.5-min-talk in the poster short presentation session (10:00 - 11:00) on Jan. 12th.
Your talk file MUST be sent to izes-poster@zc.iir.titech.ac.jp by Jan. 6th.
The electronic file of the poster short presentation MUST be made ONLY in PDF format (see the sample).
Your poster can be put on the board from 9:00 on Jan. 12th.
The size of the poster must be smaller than 130cm in length x 90cm in width.
The poster session will be scheduled between 12:00 to 13:00 for ODD ID # presenters and 13:00 to 14:00 for EVEN ID # presenters on Jan. 12th.
All posters will be voted on by all participants, and some selected posters will be awarded at the closing session ceremony on Jan. 12th.